I didn't come in thinking that this would become a permanent position for me, but after working with amazing people, I couldn't see myself moving on from such a fulfilling and exciting job. So, when the opportunity came about, I could not pass it up. I want to thank everyone for making this such a great place to work and for welcoming me with open arms and smiles. It is a pleasure to officially be a part of CSSMV!
Shay Augustin -- Front Door Coordinator & Program Assistant for the Center for Families
Started as a temporary employee in October 2022 and officially joined the staff in July 2023
Development and Marketing

Hispanic Outreach Program

Pregnancy and Parenting Support
Full-time employees receive the following benefits:
Paid Time Off (PTO) — 4 weeks earned within the first year of service
12 paid holidays
Comprehensive and affordable healthcare coverage through Anthem Blue Cross/Blue Shield for the employee and their dependents
Dental coverage
Vision coverage
Medical and dependent care Flex Spending Accounts
401k Plan with discretionary agency match
EAP – Employee Assistance Program
Group Life Insurance
Voluntary Life Insurance
Long Term Disability
Part-time employees who work 20-30 hours per week receive these benefits:
Paid Time Off (PTO) at a prorated level
Paid holidays
401k Plan with discretionary agency match
EAP – Employee Assistance Program
Group Life Insurance
Voluntary Life Insurance
Long Term Disability
If an interview has been scheduled with you for one of our open positions, you will need to complete an application form and submit it to us PRIOR TO your interview. Use the link below to access and download our fillable PDF form. Please download and save the form on your computer BEFORE filling it out. Once you have completed the form, please save it and then email it as an attachment to jobs@cssmv.org. In your email, be sure to provide the title of the job for which you are interviewing. At the time of your interview, you will be asked to sign and date the last page of the application form.
Applicants have rights under Federal Employment Laws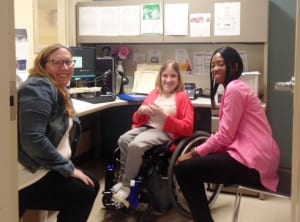 Opportunities are available for students to gain valuable education and experience in several of our programs, including (but not limited to) the Choice Food Pantry, Family Stabilization & Support, Refugee Resettlement, Professional Counseling, and Erma's House Family Visitation Center. The majority of our internships are unpaid but meet the criteria for school credit. If you are not planning to intern for credit, you may still be able to gain experience in these same roles as a volunteer, instead of as a formal intern. More information about internship opportunities is available in our You Can Help section.

Eckerle Administration Center
922 West Riverview Avenue
Dayton, OH 45402
(937) 223-7217 or (800) 300-2937
General email: cssmv@cssmv.org
Latest News
Construction Begins

July 7, 2023 - 2:33 pm

The July 7, 2023 groundbreaking marks the beginning of construction on a 6,500 square foot addition to the existing building which was originally built in the mid-1960s.  The addition will have new space for the agency's emergency food pantry, an elevator, a new entrance and Welcome Center, and a community room.