Dayton Nonprofit Life Essentials Merges with Catholic Social Services of the Miami Valley
Dayton, Ohio (April 1, 2020) – Dayton-based nonprofits Catholic Social Services of the Miami Valley and Life Essentials have completed the final steps of a merger that will mean new resources for both organizations.
Life Essentials started in 1987 as a volunteer-driven agency called Chums and Choices. More than 30 years later, Life Essentials provides advocacy services in Montgomery and Greene Counties that enable seniors and people living with mental illness to have a greater quality of life. (During the current COVID-19 crisis, services are continuing via telehealth, to maintain safe social distancing for both staff and clients.)
When Life Essentials' Executive Director Linda Roepken announced her retirement to her Board of Directors, they decided to take a strategic look at the organization's future. With the help of a consultant, they concluded that the best option would be to identify a partner organization that would be a good mission fit.
"We were one of several agencies approached by Life Essentials to discuss the possibility of a merger," said Catholic Social Services CEO Laura Roesch. "Once we had that conversation, it quickly became apparent that there was an obvious fit. We already serve more than a thousand low-income seniors every year to help them age in place, so adding guardianship and advocacy is well within our mission and service model. With Life Essentials' Chums program, our agency will also be adding a new focus on those age 50 or older who are living with mental illness."
"I couldn't be happier that Life Essentials is merging with Catholic Social Services," said Linda Roepken. "As a small nonprofit, we've been facing some challenges that are better addressed by an organization with greater capacity. With this merger, there should be no interruption in services for our clients, and there will be an opportunity for Life Essentials to have greater stability and perhaps even future growth."
As of April 1, 2020, Life Essentials has officially become a program of Catholic Social Services. All staff are staying on board, with the exception of Roepken and one other individual who also retired. The Life Essentials office will remain at its existing location, 40 S. Perry Street in downtown Dayton.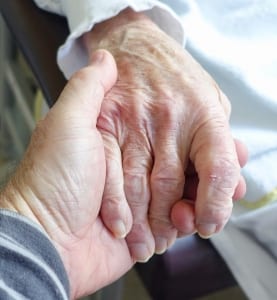 The Life Essentials guardianship program provides support for seniors who have been deemed mentally incompetent and who do not have family willing or capable of making sound decisions for them.
Life Essentials cannot accept referrals from individuals such as family members or neighbors; the program only takes referrals from providers. Persons seeking to get an individual into guardianship are referred on to the Probate Court or to the Volunteer Lawyers Project (VLP) or to the Dayton Bar Association for information and assistance. Life Essentials cannot provide legal advice, nor can we escort applicants to court.
For a guardianship referral to be warranted, the individual must be incapacitated and unable to manage his or her own financial resources and/or unable to make informed medical decisions. A referral form must be completed and there must be a Statement of Expert Evaluation signed by the proposed ward's doctor or psychiatrist.
Life Essentials staff and trained volunteers take on the critical role as guardian, working with their clients to ensure that each individual has the best possible life and lives in the least restrictive environment. Guardians become the advocate and voice for those who are unable to speak for themselves.
In addition to fulfilling the role of guardian, the Life Essentials guardianship program provides support to family members and/or friends who are willing and capable of becoming the guardian for a loved one.

Eckerle Administration Center
922 West Riverview Avenue
Dayton, OH 45402
(937) 223-7217 or (800) 300-2937
General email: cssmv@cssmv.org