0
Days
0
Hours
0
Minutes
0
Seconds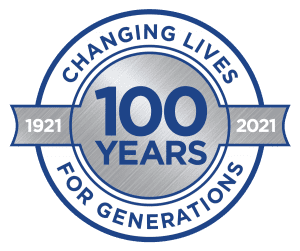 It's an all-day community celebration for Catholic Social Services of the Miami Valley's 100th anniversary, and admission is free! There will be a wide assortment of activities from 11:00 a.m. to 11:00 p.m., so be sure to check out the details below to plan your visit.
If you have questions about our Centennial Celebration that aren't answered here on this site, you can call our office at 937.223.7217 between 8:30 a.m. and 5:00 p.m. Monday through Friday.
RiverScape MetroPark and Surrounding Area

Metered parking is FREE on weekends! If you're willing to pay for parking, the Downtown Dayton Partnership has a handy interactive map of parking lots and garages. Five Rivers MetroParks will be reserving a limited number of meters on the streets adjacent to our festival area for those who have state-issued disability parking placards.

Don't feel like parking downtown? RTA will give you a FREE ride into downtown on The Flyer starting at 4:00 p.m. You'll find more information HERE.
Centennial Celebration Main Stage
sponsored by 5/3 Bank
Visit the RiverScape Pavilion for live entertainment throughout the day!
11:00 am —- Kettering Civic Band
12:00 pm —- Pianists from Stivers School for the Arts
12:30 pm —– Danny Schneible
2:00 pm —– Richens Timm Celtic Dance Troupe
2:30 pm —– Nick Tanner
4:00 pm —– Recorded music
5:45 pm —– Casino Tight
7:00 pm —– Stranger
9:00 pm —– Bluewater Kings
updated 9/15
Gem City Wiffle Ball Home Run Derby
presented by Grunder Landscaping
Head over to Don Crawford Plaza (in front of Day Air Ballpark, home of the Dayton Dragons) for some hands-on fun at our Wiffle ball home run derby tournament!
We'll have the kids' qualifying round from 11:00 a.m. to 5:30 p.m. Finals will be at 6:00 p.m., for a chance to win four VIP Dayton Dragons passes.
The Adult Home Run Derby — age 15 and up — will start right after the kids' finals, and will go until (approx.) 9:45 p.m.
Advance registration is not required!
Dayton's Biggest Fish Fry
If you've attended area fish fry events hosted by local parishes or schools, you've probably seen one or both of the Dayton area's two main fryer groups: the Corpus Christi Fryers and Hechts' Frying Fish! Well, from 5:30 to 10:30 p.m., we'll have BOTH groups together for Dayton's Biggest Fish Fry! Each fish dinner will include three pieces of fish, cole slaw, fries, bread, and a non-alcoholic beverage.
Unlike other food vendors on the festival site, the fish fryers will require a special dinner ticket, sold only through Catholic Social Services. Be sure to visit one of the three on-site ticket sales tents, where you can get your fish fry dinner ticket for $10. (This is also where you'll need to stop to purchase 'Centennial Bucks' tickets that you can use for on-site beverages including beer, wine, soft drinks and water.)
Kid & Family Fun Area
Visit Don Crawford Plaza — the area in front of the Day Air Ballpark — for lots of kid-friendly activities starting at 11:00 a.m. There will be three areas on the plaza for families to enjoy:
The center of the plaza will be occupied by the Gem City Wiffle Ball Home Run Derby. (See the separate listing on this page for more details.)
The plaza will also host the Family Fun Zone tent, featuring Raise Your Brush, Scene 75, and the Boonshoft Museum of Discovery. Scene 75 is bringing a corn hole board, tabletop skee-ball, a spin wheel, and mini putt-putt. It's free to play, and everyone is a winner! Boonshoft is bringing some great activities and even some of their animals. For a $6 fee (payable with cash, credit or Centennial Bucks) Raise Your Brush will provide a canvas and painting supplies so you can create your own mini-masterpiece. This area will be open until 9:00 p.m.
Last but not least, Event Drop will be on the plaza with some of their giant yard games, including giant 4-in-a-row and giant Stacking Tower (like Jenga).
With the exception of Raise Your Brush, all these activities are FREE.
Food Trucks
You'll find an assortment of food trucks on Monument Avenue (along RiverScape) and Patterson Boulevard (across from Day Air Ballpark) starting at 11:00 a.m. Offerings will include tacos, hot dogs, gyros, burgers, fries, nachos, funnel cakes and other fried desserts, and kettle corn, as well as at least one vendor offering healthy, vegetarian options. The trucks are scheduled to be on site until 11:00 p.m., but keep in mind that some items might sell out earlier.
The food trucks will accept cash/credit payments — they will NOT be accepting our Centennial Bucks.
Wine Garden
To the west of the RiverScape Pavilion, wine lovers will have the opportunity to sample an assortment of red and white wines starting at 5:30 p.m., with sommeliers on hand to talk about the wines being offered.
Both tastings and full pours will be available, but patrons will need to stop by one of the festival Ticket Booths to get a wristband (for age 21+) and to purchase Centennial Bucks that can be used to purchase wine tastes/pours.
Two oz. tastes are priced at $2 or $4, depending on the wine. Likewise, a full 6oz. pour will range from $6 to $8.
Catholic Mass in the Ballpark
If you're Catholic, you can head into Day Air Ballpark (home of the Dayton Dragons) for a 4:30 outdoor Mass. Gates will open at 4:00 p.m.
If you'd like to volunteer to help with the Mass, please visit our online volunteer sign-up form. We need volunteers to serve as ushers and to help clean up afterwards.
Beverages
All locations listed below will require payment in Centennial Bucks. You can buy these with cash/credit at any of three ticket booths on the festival grounds.
SOFT DRINKS & WATER
There will be two soft drink & water trailers on Monument Avenue.

Bottled nonalcoholic drinks options will include water, RC Cola, Sunkist, A&W Root Beer, Canada Dry Ginger Ale, Hawaiian Punch, Snapple fruit tea, and sweet tea.

All non-alcoholic drinks will be $2 in Centennial Bucks

. 
BEER
We'll have two beer trucks from Heidelberg Distributing with several different draft options. You'll need $4 or $6 in Centennial Bucks, depending on which draft you prefer. We'll also have Warped Wing on site, offering their locally-created brews for $6 in Centennial Bucks.
WINE
From 5:30 to 10:00 p.m., the Wine Garden to the west of the RiverScape Pavilion will begin offering tastes and full pours of finer wines. (Cost will vary, but will be posted.) The Heidelberg beer trucks will also have a limited supply of white and red wines available throughout the day.
LAST CALL at the three beer trucks will be at 10:30 p.m.
Ticket Booths & Centennial Bucks
You'll want to stop by one of the festival's three ticket booths with cash or a credit card to buy "Centennial Bucks" that can be used to purchase a variety of items on site.
Centennial Bucks Only — NO cash/credit:
Heidelberg beer trucks
Warped Wing beer truck
Wine Garden
Soft drink and water trailers
Centennial Bucks, Cash, or Credit:
Raise Your Brush, in the kids' area
Centennial Bucks can NOT be used at food trucks. 
A limited number of tickets will be available for Dayton's Biggest Fish Fry, which starts at 5:30 p.m. If you plan to partake in the dinner, we recommend that you purchase a $10 Fish Fry ticket in advance from a ticket booth. You can use Centennial Bucks at the Fish Fry tent once it opens, but only if there are still Fish Fry tickets available!
IF YOU ARE 21 OR OLDER, the ticket booths are also where you can obtain a wrist band, which you'll need in order to purchase beer or wine on the festival grounds. (Be sure to bring your ID!)
Become a Volunteer!
We will need many volunteers throughout the day, with opportunities available for groups and individuals as young as age 10. To see all available volunteer tasks and register for a shift — or two or three! — please visit our VOLUNTEER SIGN-UP PAGE. If you have a group that would like to volunteer together, claim your spot ASAP… We can use as many as 10 people working together on a shift!
Each volunteer will receive a Centennial t-shirt when you check in for your shift.
Have some specific questions about volunteering? Please contact Mike Hoendorf at 937.223.7217 ext.1141.

Eckerle Administration Center
922 West Riverview Avenue
Dayton, OH 45402
(937) 223-7217 or (800) 300-2937
General email: cssmv@cssmv.org
Latest News
Generations Campaign

April 27, 2022 - 7:15 pm

At Catholic Social Services of the Miami Valley's Annual Meeting on April 27, CEO Laura Roesch announced the public phase of a five-year comprehensive campaign inspired by the desire to broaden and enhance the agency's impact as it enters its second century of service. The Generations Campaign will run through 2025, with a total fundraising goal of $10,000,000.