Agency Earns BBB Eclipse Integrity Award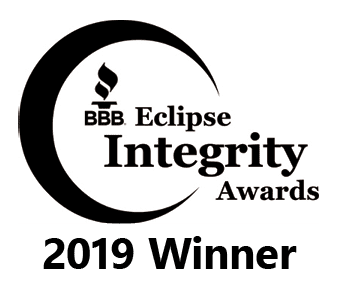 The Better Business Bureau (BBB) serving Dayton and the Miami Valley hosted its annual Eclipse Integrity Awards dinner on May 14, 2019. About 500 people attended the event to honor four organizations with the prestigious Eclipse Integrity Awards, as well as five Students of Integrity Award winners, Community Honor recipients, local Torch Award winner and Dave Donaldson Award of Distinction – The "3D" honoree, and the inaugural Spark Award winners. The BBB received nearly 650 nominations recognizing the outstanding performance of Miami Valley businesses and nonprofits.
The Nonprofit Eclipse Integrity Awards are presented to nonprofits or charities which demonstrate outstanding community service through their mission and accomplishments, demonstrate excellence in programs and fiscal stewardship, operate with integrity through ethical leadership and a strong team, are transparent in their communications and value the power of collaborations/partnerships. Their actions make a positive impact on the vitality and overall health of our community while supporting the ideals of BBB.
Catholic Social Services of the Miami Valley was honored to receive the Nonprofit Eclipse Integrity Award in the 75+ employees category. In presenting the award, the BBB noted that, "The staff provides excellence through professional expertise and the balance of a caring spirit. Collaboration and creativity are valued and welcomed because they help the organization better meet challenges faced by clients. The team delivers quality services, invites volunteerism and financial support and is a trustworthy steward of funding, making it an organization that's gained the public's trust."
The other Nonprofit Eclipse Integrity Award winner was Crayons To Classrooms, in the 0-50 employees category. The 2019 business (for-profit) award winners were Lavender Home Care Solutions (0-50 employees category) and Cox Media Group Ohio (100+ employees category).
Good News: Fall 2019 Issue

Eckerle Administration Center
922 West Riverview Avenue
Dayton, OH 45402
(937) 223-7217 or (800) 300-2937
General email: cssmv@cssmv.org
Latest News
Generations Campaign

April 27, 2022 - 7:15 pm

At Catholic Social Services of the Miami Valley's Annual Meeting on April 27, CEO Laura Roesch announced the public phase of a five-year comprehensive campaign inspired by the desire to broaden and enhance the agency's impact as it enters its second century of service. The Generations Campaign will run through 2025, with a total fundraising goal of $10,000,000.