Dayton Beer Company, LMG, and CSSMV Collaborate on Holy Lager
---
By guest columnist Teresa Spanel of LMG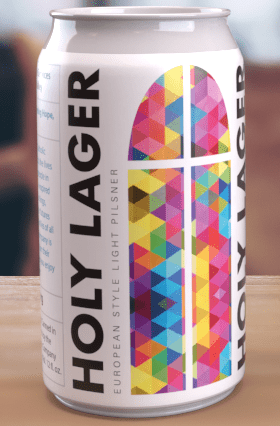 Sometimes the stars align, and the perfect collaboration is formed. This past spring, Dayton Beer Company, LMG, and Catholic Social Services of the Miami Valley came together to create an amazing can design for a beer brewed to support CSSMV. For every 6-pack purchased or draft poured of DBC's Holy Lager, a percentage will be donated to this deserving organization.
Our LMG designer, Joe Sarver, explained the can design as "very bold, clean, and bright." He said, "When you look at the can, you'll immediately notice the stained-glass windows and, in the middle, you'll see a simple white cross. It was important to make sure that the mission of CSSMV was well represented, so we featured this prominently on each can."
As an employee at LMG, it was energizing to work on such a creative project and to utilize the expertise of our neighbors down the street at DBC. More and more, I keep hearing how Dayton is such a "small world" because of all of the community connections. This project was certainly proof, bringing together Dayton businesses, a former boss and employee, past coworkers, a priest and parishioners, and many others. The beauty of this is that so many came together for one common goal. Especially during this time, it's important to bring our community to support the supporters.
LMG Assistant Account Executive Teresa Spanel and CSSMV Director of Marketing & Development Mike Lehner were on hand at the Holy Lager launch event at Dayton Beer Company in June.
Good News: Fall 2019 Issue

Eckerle Administration Center
922 West Riverview Avenue
Dayton, OH 45402
(937) 223-7217 or (800) 300-2937
General email: cssmv@cssmv.org
Latest News
Generations Campaign

April 27, 2022 - 7:15 pm

At Catholic Social Services of the Miami Valley's Annual Meeting on April 27, CEO Laura Roesch announced the public phase of a five-year comprehensive campaign inspired by the desire to broaden and enhance the agency's impact as it enters its second century of service. The Generations Campaign will run through 2025, with a total fundraising goal of $10,000,000.