Saying Thanks on Giving Tuesday
---
Since it began in 2012, GivingTuesday has grown exponentially, with an incredible number of nonprofits hosting campaigns to encourage donations on the Tuesday after Thanksgiving. This year, instead of campaigning for financial support, Catholic Social Services decided to take the opportunity to celebrate the generosity demonstrated by so many individuals and groups in 2019.
A thank-you event, called Raise a Glass to Dayton, took place at the Marion's Piazza on North Dixie Drive — in the middle of one of the main tornado impact zones. From 11 a.m. to 8 p.m., CSSMV treated each guest to a free drink and had door-prize giveaways. At various points throughout the day, guests enjoyed a visit from Rudy Flyer (the U.D. mascot), a DJ spinning tunes, and other fun treats.
"This event was a thank-you for all the donations sent to local organizations including CSSMV, as well as for the countless hours of volunteers gathering, organizing and distributing food, health and hygiene items, and just supporting their fellow community members," said Mike Hoendorf, CSSMV's parish and community relations coordinator.
Thanks to a Special Volunteer!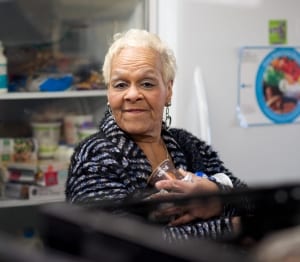 A familiar face in CSSMV's Choice Food Pantry was recognized as United Way of Greater Dayton's Community Volunteer of the Month for November. Nona Rutledge has been volunteering with the agency for several years, putting her time and heart into serving the pantry's clients. Because of dedicated volunteers and supporters like Nona, the pantry was able to provide supplemental and emergency food assistance to 5,999 families last year.
Good News: Winter 2019-2020

Eckerle Administration Center
922 West Riverview Avenue
Dayton, OH 45402
(937) 223-7217 or (800) 300-2937
General email: cssmv@cssmv.org
Latest News
PASSPORT and Assisted Living Medicaid Waiver Amendments

September 6, 2023 - 8:11 pm

Proposed amendments to Ohio's PASSPORT Medicaid Waiver and Assisted Living Medicaid Waiver, which will be submitted to the Centers for Medicare and Medicaid Services (CMS) for review, have been posted for public comment. The period for public comment on the proposed PASSPORT and Assisted Living Medicaid Waiver Amendments began on August 29, 2023, and is […]