Long-Term Recovery is Just Beginning
---
As the calendar year comes to a close, area organizations are still in the early stages of providing long-term recovery services to those whose lives were turned upside down by the Memorial Day tornadoes.
FEMA — the Federal Emergency Management Agency — estimates as a rule of thumb that 5% of registered households will require long-term case management support to achieve a full recovery. In our community, the percentage will likely be closer to 15% because of the disproportionate number of low-income neighborhoods that were impacted, and the very high percentage of uninsured or underinsured renters who were living in those neighborhoods. Based on FEMA's formula, more than 850 households may benefit from long-term case management services over the next two to three years.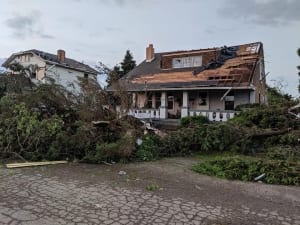 Because of Catholic Social Services' strength and competence in the area of case management, along with an existing service area that mirrors the impacted counties, CSSMV was asked and agreed to coordinate the Long Term Recovery Case Management group comprised of St. Vincent de Paul, Community Action Partnership, Salvation Army, Lutheran Social Services of Central Ohio and CSSMV. The group has been working to establish common forms, processes, eligibility, and assistance parameters, and convening partner meetings for regular case conferencing, communication and problem solving.
By FEMA's estimates, eight or nine full-time case managers will be needed to serve the impacted families. While there is not yet enough funding in place to support this number of new employees, a solid start has been made. The Dayton Foundation provided funding for a new full-time manager, the Archdiocese of Cincinnati has funded one full-time case manager, and the United Methodist Committee on Relief (UMCOR) has covered the cost of two additional case managers. This allows tornado relief funds donated by individuals and organizations to go directly toward assistance for those in need.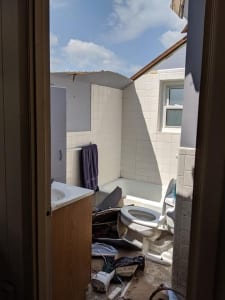 Now headquartered at CSSMV's Eckerle Administration Center on W.  Riverview Avenue in Dayton, the long-term tornado recovery case management team is being led by Program Manager Michael Perry, who has extensive experience both providing and managing social services, including directing disaster recovery programs with Catholic Charities in Miami, Florida and Los Angeles, California, as well as other non-profit programs throughout California.
Tamara Gaddis-Strozier, who originally joined CSSMV as a part-time case manager in the Family Stabilization & Support program, was promoted to the full-time position of long-term disaster case navigator this summer. In November, the team grew with the addition of two UMCOR case managers, Halley McClain and Rhonda Zimmers.
All initial calls for tornado-related assistance are still being directed to the United Way of Greater Dayton's HelpLink 2-1-1, with their operators handling screening and assessments before routing clients to case management services. This allows the case managers to spend their time working directly with clients who have already been through the "triage" process. As of mid-November, there had been more than 300 referrals made for case management assistance, and that number continues to grow.
If you were impacted by the Memorial Day tornadoes and are still in need of assistance, please call HelpLink by dialing 211 or calling (937) 225-3000.
Long Term Recovery Disaster Case Management is a time-limited process by which a skilled Navigator/Case Manager partners with a disaster affected individual or family in order to plan for and achieve realistic goals of recovery following a disaster.
— National Voluntary Organizations Active in Disaster (VOAD)
Michael Perry
Catholic Social Services of the Miami Valley
Tamara Gaddis-Strozier
Catholic Social Services of the Miami Valley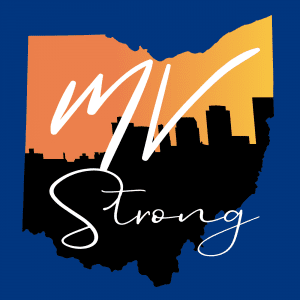 The Miami Valley Long Term Recovery Operations Group launched a website to provide a centralized online location where people can access recovery information. The website, MVStrong.org, is designed to be a one-stop source of information and resources to support those affected by the tornadoes and those who are interested in getting involved with recovery work. The website is divided into three sections: "Get Help," "Volunteer," and "Donate."
Project: Gift of Warmth
Now through December 31st, a campaign is underway to collect new hats, gloves, socks, and coats to be distributed to schools in communities impacted by the Memorial Day tornadoes. Project: Gift of Warmth is being organized by the Miami Valley Long-Term Recovery Operations Group, in partnership with Dayton's Crayons to Classrooms (DC2C) and LoveLight.
Catholic Social Services is accepting donations in the lobby of its Center for Families, 1046 Brown Street in Dayton, from 8:30 a.m. to 5:00 p.m. weekdays. (Please note that CSSMV will be CLOSED on Dec. 24-25 and on Dec. 31.)
Other drop-off sites around the community include:
• The Dayton Foundation Lobby – 1401 S. Main Street, Dayton, OH 45409 (M-F 8am to 5pm)
• Harrison Township Community Center – 5945 North Dixie Drive, Dayton, OH 45414 (M-F 8am to 4:30pm)
• Pedz Dental – 5671 Far Hills Avenue, Dayton, OH 45429 (M-Th 9am to 5pm, F 9am to 1pm)
• Trotwood Government Center – 3035 Olive Road, Trotwood, OH 45426 (M-F 8am to 5pm)
• The Barrel – 857 W. Central Avenue, Springboro, OH 45066 (M-Sun 11am to 2:30am)
In addition to drop-off barrels, an Amazon Wish List to purchase and ship items directly to Crayons to Classrooms has been established at Project: Gift of Warmth. You will need to have an Amazon Smile account to access the list at https://amzn.to/2DU1q9D.
Good News: Winter 2019-2020

Eckerle Administration Center
922 West Riverview Avenue
Dayton, OH 45402
(937) 223-7217 or (800) 300-2937
General email: cssmv@cssmv.org
Latest News
Generations Campaign

April 27, 2022 - 7:15 pm

At Catholic Social Services of the Miami Valley's Annual Meeting on April 27, CEO Laura Roesch announced the public phase of a five-year comprehensive campaign inspired by the desire to broaden and enhance the agency's impact as it enters its second century of service. The Generations Campaign will run through 2025, with a total fundraising goal of $10,000,000.