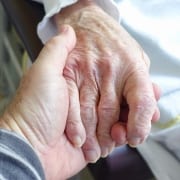 The Life Essentials guardianship program provides support for seniors who have been deemed mentally incompetent and who do not have family willing or capable of making sound decisions for them.

Life Essentials cannot accept referrals from individuals such as family members or neighbors; the program only takes referrals from providers. Persons seeking to get an individual into guardianship are referred on to the Probate Court or to the Volunteer Lawyers Project (VLP) or to the Dayton Bar Association for information and assistance. Life Essentials cannot provide legal advice, nor can we escort applicants to court.

For a guardianship referral to be warranted, the individual must be incapacitated and unable to manage his or her own financial resources and/or unable to make informed medical decisions. A referral form must be completed and there must be a Statement of Expert Evaluation signed by the proposed ward's doctor or psychiatrist.

Life Essentials staff and trained volunteers take on the critical role as guardian, working with their clients to ensure that each individual has the best possible life and lives in the least restrictive environment. Guardians become the advocate and voice for those who are unable to speak for themselves.

In addition to fulfilling the role of guardian, the Life Essentials guardianship program provides support to family members and/or friends who are willing and capable of becoming the guardian for a loved one.



https://cssmv.org/wp-content/uploads/2020/03/PIXABAY-hand-3699825.jpg
3244
3000
Andrea Skrlac
https://cssmv.org/wp-content/uploads/2020/12/cssmv-logo-2020.png
Andrea Skrlac
2020-04-01 18:00:29
2023-06-21 11:24:04
Guardianship Services

Eckerle Administration Center
922 West Riverview Avenue
Dayton, OH 45402
(937) 223-7217 or (800) 300-2937
General email: cssmv@cssmv.org
Latest News
PASSPORT and Assisted Living Medicaid Waiver Amendments

September 6, 2023 - 8:11 pm

Proposed amendments to Ohio's PASSPORT Medicaid Waiver and Assisted Living Medicaid Waiver, which will be submitted to the Centers for Medicare and Medicaid Services (CMS) for review, have been posted for public comment. The period for public comment on the proposed PASSPORT and Assisted Living Medicaid Waiver Amendments began on August 29, 2023, and is […]
Scroll to top