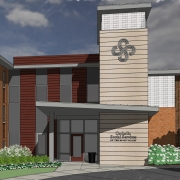 We've been changing lives for GENERATIONS.
The reason Catholic Social Services of the Miami Valley has been a respected and effective service provider for more than 100 years is that we refuse to stand still. We persist in asking what services are most needed and how we can make the most profound impact on those we serve.
With a strategic eye toward our next century of service, we have launched our GENERATIONS CAMPAIGN, focusing on expanding or improving four significant aspects of our organization.
Our total campaign goal is to raise $10,000,000 over five years, 2021-2025. With your support, we have no doubt that we can meet or exceed that goal.
For more information about the Generations Campaign or to make a gift or pledge, please contact:
Director of Marketing & Development
937.223.7217 ext.1142
This five-year comprehensive campaign is inspired by the desire to broaden and enhance our impact as we enter our second century of serving the Miami Valley region.
Our focus is on four key priorities:
Strengthening the Annual Fund
Each year from 2021 through 2025, we will increase individual and organizational annual gifts by $100,000. By 2025, our Annual Fund baseline will have grown by $500,000. This increase will have a substantial impact on our day-to-day operations and will provide us with more flexibility to respond to community needs as they arise.
Financial Goal: $1,000,000
Investing in Strategic Program Areas
Catholic Social Services of the Miami Valley (CSSMV) is prioritizing significant investments in three program areas that address unmet needs in the communities they serve.
NEXT STEPS is a partnership between CSSMV and Sinclair Community College, providing case management and emergency financial assistance to students who are most at risk of dropping out of school, enabling them to complete certifications and degree programs to enhance their earning capacity and help the economy of the region. The goal is to serve 120 students per year by 2025.
ECHO (Empowering Children with Hope and Opportunity) is a comprehensive counseling and social emotional learning program designed to remove non-academic barriers to learning for students in grades K-12. CSSMV partners with the University of Dayton to provide this proven model, and funding will enable expansion to additional rural schools in our Northern Counties service area.
LIFE ESSENTIALS provides guardianship for adults whom the Probate Court has deemed mentally incompetent and who don't have family willing or capable of making sound decisions for them. Campaign funding will expand court-appointed guardianship services into our Northern Counties region.
Financial Goal: $3,700,000
Improving Facilities
For nearly 50 years, staff and volunteers working at CSSMV's food pantry and offices at 922 W. Riverview Avenue in Dayton have made the most of a facility that once was the convent of the Dominican Sisters of the Sick Poor. Campaign funding will add a loading dock for food delivery, a community space, and a ground floor welcome center, as well as increased accessibility to all three floors of the building via a new elevator. There will also be improvements to the parking lot and client entrance at the Center for Families at 1046 Brown Street.
Financial Goal: $3,300,000
Attracting & Developing a Skilled Workforce
Investing in our greatest asset – our staff – is a key priority of the campaign. CSSMV will invest up to $2,000,000 of realized estate gifts to ensure that funds are available to staff who wish to pursue an undergraduate or advanced degree in their field. An estimated 3% annual interest rate on this investment will provide up to $60,000 per year available for this purpose, helping ensure that our staff can maintain and expand their professional expertise. The fund will also give us a competitive resource for attracting and retaining talented employees.
Financial Goal: $2,000,000
https://cssmv.org/wp-content/uploads/2022/04/CSSMV_VIEWS_20220420_Page_6_Image_0001-square-scaled.jpg
2560
2560
Andrea Skrlac
https://cssmv.org/wp-content/uploads/2020/12/cssmv-logo-2020.png
Andrea Skrlac
2022-04-27 19:00:44
2023-03-13 14:58:58
Generations Campaign