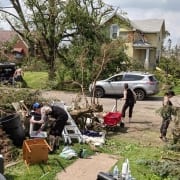 Numerous area organizations have been working together to provide long-term recovery services to those impacted by the Memorial Day tornadoes of 2019. The Federal Emergency Management Agency — FEMA — estimates that more than 850 area households may benefit from long-term case management services over a two to three year period.

Because of Catholic Social Services' strength and competence in the area of case management, along with having an existing service area that mirrors the impacted counties, we were asked and agreed to coordinate the local Long Term Recovery ("LTR") Case Management group.

Recovery will take time, but our LTR case navigators are here to help along the way. Navigators can assist with a variety of tornado-related challenges and needs, including:
Connecting to sources of financial assistance.
Identifying and securing short- and long-term housing solutions.
Accessing resources to repair and rebuild homes.
Long Term Recovery Disaster Case Management is a time-limited process by which a skilled Navigator/Case Manager partners with a disaster affected individual or family in order to plan for and achieve realistic goals of recovery following a disaster.
— National Voluntary Organizations Active in Disaster (VOAD)
https://cssmv.org/wp-content/uploads/2020/01/cropped-clean-up-group.jpg
514
720
Andrea Skrlac
https://cssmv.org/wp-content/uploads/2020/12/cssmv-logo-2020.png
Andrea Skrlac
2019-10-01 18:04:41
2021-09-29 17:10:23
Long-Term Tornado Recovery Case Management

Eckerle Administration Center
922 West Riverview Avenue
Dayton, OH 45402
(937) 223-7217 or (800) 300-2937
General email: cssmv@cssmv.org
Latest News
Generations Campaign

April 27, 2022 - 7:15 pm

At Catholic Social Services of the Miami Valley's Annual Meeting on April 27, CEO Laura Roesch announced the public phase of a five-year comprehensive campaign inspired by the desire to broaden and enhance the agency's impact as it enters its second century of service. The Generations Campaign will run through 2025, with a total fundraising goal of $10,000,000.
Scroll to top