Sometimes, the path to a college degree isn't as simple as a line from A to Z. Challenges not related to academics can make it difficult to complete your education as quickly as you had planned, or even force you to drop out entirely.
The Next Steps program works with students who are enrolled at Sinclair Community College and helps them reduce barriers to completing their education. Barriers may include things like housing instability, underemployment, lack of child care, healthcare concerns, and unexpected financial challenges.
As a participant in Next Steps, you will have individualized, one-on-one meetings with a Success Navigator who will work with you and your Academic Coach to support your goal of completing your degree. Your Navigator will provide connections and referrals to resources that can help address your non-academic barriers. You'll be able to apply for direct financial assistance grants to address emergency financial challenges that create barriers to  your school attendance. And you will have peer support opportunities with other Next Steps program participants who have similar goals.
If you would like to learn more about this program and find out if you meet eligibility requirements, please submit the inquiry form on this page.
https://cssmv.org/wp-content/uploads/2021/11/iStock-514985318-medres-scaled.jpg
2560
1707
Andrea Skrlac
https://cssmv.org/wp-content/uploads/2020/12/cssmv-logo-2020.png
Andrea Skrlac
2021-11-02 18:50:19
2023-07-27 17:41:31
College Degree Support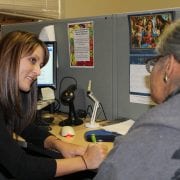 Neighbors Helping Neighbors is a great program because it benefits the working poor. If an obstacle gets in their way, we're here to help them get through it. This is a great safety net to help them remain afloat during tough times.
Mary Reid, MSSA, LISW-S
CSSMV Director of Social Services (Dayton)
Neighbors Helping Neighbors is Catholic Social Services' utility assistance program. The idea is that people who can normally make ends meet sometimes fall behind financially due to unusual and unexpected circumstances. 
At this time, this program can only assist households in these seven zip codes: 45402, 45403, 45405, 45406, 45417, 45426 and 45428.
The Neighbors Helping Neighbors (NHN) program can provide limited funds for households that are unable to pay the bill for their electric, gas or water service, and who will be able to get financially back on track with just this small bit of assistance.

Those seeking help call the NHN hotline and go through a screening process to see if they qualify for the program. If approved, they come to CSSMV and work with a case manager to set financial goals and a household budget. The intent is for the client to continue making financial progress beyond the month of the utility assistance.



How to Apply for Assistance:
The first criterion for eligibility is that you must live in one of the following Dayton (Ohio) zip codes: 45402, 45403, 45405, 45406, 45417, 45426 or 45428.
Screening calls are accepted on Mondays only, from 8:30 a.m. until appointments for the week have been filled. (This usually happens very quickly.) The number to call is (937) 223-7217 ext.1102. Walk-ins are not accepted.
During this time, calls are answered live by program screening staff. There is no option for callers to leave a message. If you get a busy signal, keep calling back. If necessary, you can try again the following week.
Appointments for the week are filled on a first-come, first-served basis, for those who meet the eligibility criteria for the program. Holidays and funding variation may impact scheduling; changes in the schedule will be posted in the recorded message you'll hear when you call.
https://cssmv.org/wp-content/uploads/2018/05/IMG_1601-1.jpg
2848
4272
atomic
https://cssmv.org/wp-content/uploads/2020/12/cssmv-logo-2020.png
atomic
2018-01-16 00:13:37
2022-03-21 13:59:24
Utility Assistance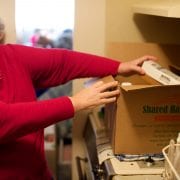 Staff in our Northern Counties office launched FoodSource as a small pilot program in 2017.

Managed in cooperation with the Shared Harvest Food Bank and the Western Ohio Foodbank, the program helps meet the food insecurity challenges of isolated, low-income seniors. Once a month, 40-pound boxes of staple food items are delivered to people in need in Darke, Shelby and Miami Counties.

At this time, the program serves individuals over the age of 60 who are isolated. An assessment is completed to determine need and slot availability.



Aging in Place reports that nearly one in every six seniors in America faces the threat of hunger and not being properly nourished. Read more on their website.
CSSMV's experience operating their Choice Food Pantry in Dayton, along with their experience serving seniors in the rural counties, makes them a perfect partner for Shared Harvest to meet the growing number of people who are experiencing food insecurity in rural communities.
Tina Osso
Executive Director, Shared Harvest Foodbank
https://cssmv.org/wp-content/uploads/2018/05/DSC_2346.jpg
3012
4512
atomic
https://cssmv.org/wp-content/uploads/2020/12/cssmv-logo-2020.png
atomic
2018-01-16 00:12:09
2022-07-27 15:12:02
FoodSource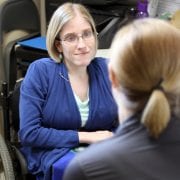 /
in Auglaize, Available To Residents, Champaign, Darke, Greene, Logan, Mercer, Miami, Montgomery, Poverty Alleviation Services, Preble, Programs & Services, Shelby
/
by atomic
Frequently Asked Questions
Do you accept walk-ins?
We only accept walk-ins on Mondays between 10:00 a.m. and 12:00 noon, on a first-come, first-served basis.
We do NOT accept walk-ins for utility assistance; CLICK HERE for more information.
In general, we recommend that you make an appointment so that a case manager can have ample time to spend with you and help you with your needs. This also allows the case manager to plan ahead for your visit, and have relevant information and materials ready for you when you arrive.
Do you provide financial assistance?
The only financial assistance we are able to provide is limited utility assistance through our Neighbors Helping Neighbors program. (CLICK HERE for more information.)
Can you help me create a household budget?
Yes! We believe that financial empowerment is an incredibly important goal for our FSS clients. This may or may not be one of the first steps in your case management plan, depending on your unique situation.
The goal of our Family Stabilization & Support (FSS) program is to help our clients escape the vicious cycle of poverty by building on their own strengths and their aspirations for themselves and their families.

Many of the people we serve struggle with unemployment or underemployment, lack of education and job skills, poor health and nutrition, lack of access to transportation, and unstable housing situations. Some have a background of multi-generational poverty, while others have experienced a series of life events that have taken their lives in the wrong direction. Our job is to help them identify and set realistic goals that will allow them to take positive steps toward making a better life for themselves and their families.

Clients who choose to work one-on-one with our FSS case managers might receive help identifying the next steps to improve their employment or housing situation, continuing their education, or learning to set and follow a budget. Our case managers also utilize the Ohio Benefit Bank to connect families and individuals to benefits for which they are eligible. Sometimes for a person who is feeling overwhelmed by problems and challenges, the first step is simply figuring out where to start.



Resources offered through FSS include:
https://cssmv.org/wp-content/uploads/2018/05/FSS-Megan-cropped-square.jpg
4000
4000
atomic
https://cssmv.org/wp-content/uploads/2020/12/cssmv-logo-2020.png
atomic
2018-01-16 00:11:39
2023-08-08 16:16:23
Family Stabilization & Support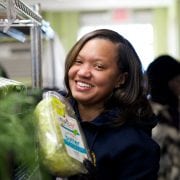 Thanks to our key partners: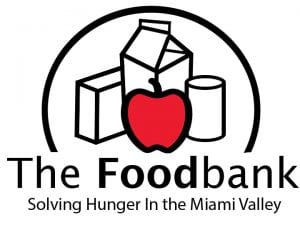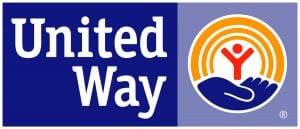 Catholic Social Services' Choice Food Pantry is one of the busiest pantries in Montgomery County, serving residents of neighborhoods in west and northwest Dayton with especially high rates of poverty, unemployment and underemployment.

While many food pantries are only open once or twice a week, we are open Monday through Friday mornings to meet the needs of our neighbors experiencing food insecurity. (The only exceptions are major holidays and the first Friday of each month.)

Pantry clients include the working poor, senior citizens, and persons with disabilities. Clients can also access the services of a case manager who can provide information and linkages to other necessary social service programs, and can also provide one-on-one case management through our Family Stabilization & Support program.



Frequently Asked Questions
When is the pantry open?
Our pantry is open on Monday through Friday, from 9:30 to 11:30 a.m.
We are CLOSED on the first Friday of every month, and on major holidays.
How much food do you give people?
Those who are eligible to access our pantry can receive full service once every 30 days. Based on the size of the household, we provide enough food to last for about five days. Emergency food pantries like ours are designed to supplement the food people can purchase for themselves with their own income and other benefits like SNAP.
We do also make fresh produce available on a daily basis, with no restriction on how often clients can come back for just these items.
What if I'm homebound and can't get to the pantry?
If you are homebound, you must send us the following items along with a signed note requesting service and a phone number where we can contact you.
ID for all members of the household — photo ID for adults; insurance cards for children
Proof of your address in one of our service zip codes
Documentation of household income below 200% of poverty level
Call (937) 223-7217 ext.1101 if you have questions about this documentation.
What if I need food, but don't live in your service area?
Area food pantries are designated to serve residents of specific zip codes. If you live in the Dayton area and need to find a food pantry for your zip code, you can call United Way's 24-hour "HelpLink 2-1-1" service, at (937) 225-3000.
What is a "choice" pantry?
Instead of receiving a pre-packaged box or bag of groceries from our pantry, our clients get to select the items they want based on their household size. The "choice" model respects the dignity of the client, and also helps reduce waste, as people aren't taking home food items their families don't like or might even be allergic to.
Where does the food come from?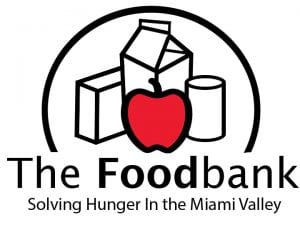 Most of the food we distribute comes to us through The Foodbank. We also receive donations from individuals, families, churches, businesses, schools and other community partners. Because we sometimes have need of items that have not come to us through these sources, we do also supplement our pantry shelves with items purchased through a wholesale source.
Can I volunteer in the pantry?
The Choice Food Pantry relies on many volunteers, and we're always looking for more. We work with both individuals and groups, and volunteer service can be a one-time or ongoing opportunity. Call our volunteer coordinator at (937) 223-7217 ext.1130 for more information.
How many people does CSSMV's pantry serve?
Here are some statistics from 2021:
The pantry made 20,170 food distributions.
We served 9,099 unduplicated clients.*
We served 4,257 unique families/households.*
*Each client or family/household was only counted once, regardless of the number of times they were served by the pantry.
https://cssmv.org/wp-content/uploads/2018/09/DSC_2859.jpg
2858
4282
atomic
https://cssmv.org/wp-content/uploads/2020/12/cssmv-logo-2020.png
atomic
2017-12-27 21:42:12
2023-03-16 11:29:31
Choice Food Pantry

Eckerle Administration Center
922 West Riverview Avenue
Dayton, OH 45402
(937) 223-7217 or (800) 300-2937
General email: cssmv@cssmv.org
Latest News
PASSPORT and Assisted Living Medicaid Waiver Amendments

September 6, 2023 - 8:11 pm

Proposed amendments to Ohio's PASSPORT Medicaid Waiver and Assisted Living Medicaid Waiver, which will be submitted to the Centers for Medicare and Medicaid Services (CMS) for review, have been posted for public comment. The period for public comment on the proposed PASSPORT and Assisted Living Medicaid Waiver Amendments began on August 29, 2023, and is […]
Scroll to top