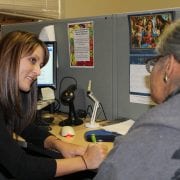 Neighbors Helping Neighbors is a great program because it benefits the working poor. If an obstacle gets in their way, we're here to help them get through it. This is a great safety net to help them remain afloat during tough times.
Mary Reid, MSSA, LISW-S
CSSMV Director of Social Services (Dayton)
Neighbors Helping Neighbors is Catholic Social Services' utility assistance program. The idea is that people who can normally make ends meet sometimes fall behind financially due to unusual and unexpected circumstances. 
At this time, this program can only assist households in these seven zip codes: 45402, 45403, 45405, 45406, 45417, 45426 and 45428.
The Neighbors Helping Neighbors (NHN) program can provide limited funds for households that are unable to pay the bill for their electric, gas or water service, and who will be able to get financially back on track with just this small bit of assistance.

Those seeking help call the NHN hotline and go through a screening process to see if they qualify for the program. If approved, they come to CSSMV and work with a case manager to set financial goals and a household budget. The intent is for the client to continue making financial progress beyond the month of the utility assistance.



How to Apply for Assistance:
The first criterion for eligibility is that you must live in one of the following Dayton (Ohio) zip codes: 45402, 45403, 45405, 45406, 45417, 45426 or 45428.
Screening calls are accepted on Mondays only, from 8:30 a.m. until appointments for the week have been filled. (This usually happens very quickly.) The number to call is (937) 223-7217 ext.1102. Walk-ins are not accepted.
During this time, calls are answered live by program screening staff. There is no option for callers to leave a message. If you get a busy signal, keep calling back. If necessary, you can try again the following week.
Appointments for the week are filled on a first-come, first-served basis, for those who meet the eligibility criteria for the program. Holidays and funding variation may impact scheduling; changes in the schedule will be posted in the recorded message you'll hear when you call.
https://cssmv.org/wp-content/uploads/2018/05/IMG_1601-1.jpg
2848
4272
atomic
https://cssmv.org/wp-content/uploads/2020/12/cssmv-logo-2020.png
atomic
2018-01-16 00:13:37
2022-03-21 13:59:24
Utility Assistance

Eckerle Administration Center
922 West Riverview Avenue
Dayton, OH 45402
(937) 223-7217 or (800) 300-2937
General email: cssmv@cssmv.org
Latest News
PASSPORT and Assisted Living Medicaid Waiver Amendments

September 6, 2023 - 8:11 pm

Proposed amendments to Ohio's PASSPORT Medicaid Waiver and Assisted Living Medicaid Waiver, which will be submitted to the Centers for Medicare and Medicaid Services (CMS) for review, have been posted for public comment. The period for public comment on the proposed PASSPORT and Assisted Living Medicaid Waiver Amendments began on August 29, 2023, and is […]
Scroll to top